15th January 2021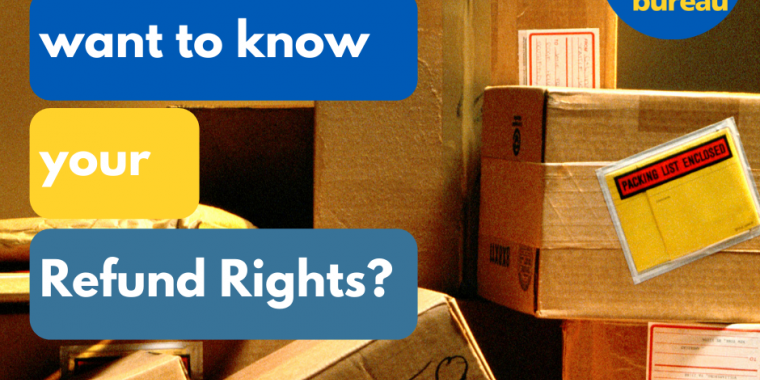 After all the Christmas gift buying you may be wondering what your refund rights are. Due to lockdown a lot of traders are giving extensions on the time limit for returns. Here we answer some Frequently Asked Questions.
Can I get a refund if I have changed my mind?
There is no automatic right to a refund because you have changed your mind. It is up to the seller's discretion.
Shop purchases
Even though they do not have to refund, many shops do so to foster good customer relations. Some have their own "returns policy", which allows a refund if the item is returned within 14 days and sometimes 30 days, as long as the item has not been worn or used. Such "return policies" are often on notices, on receipts, on the website or you could phone a local branch to check details. Remember return time may be reduced for sale goods. You stand a better chance of a refund if the goods are returned with a receipt and in the original packaging. If you don't have a receipt, then a bank statement could be proof of purchase if needed.
Don't assume you are entitled to a refund if you bought the wrong size, though many shops will allow this.
Online/phone/mail order purchases
Here the refund news is more positive. Most online traders will have their own 'return policies' but in addition with these there is a "cooling off period" of 14 days because you are buying "unseen".
There are some exceptions such as bespoke or made to measure items and goods which deteriorate quickly such as flowers/food. The "cooling off period" starts the day you receive the goods and the return can be simply because of a change of mind. CDs/DVDs/software must have the seal on the packaging unbroken.
You should tell the seller that you do not want the goods within the 14 day period and then you have another 14 days to return the goods. It is best to let them know in writing by letter /email keeping a copy. If you phone, then note who you speak to and what has been agreed and then ideally follow up in writing.
Many companies give instructions on how to return, giving details of business address, phone number and details of your right to cancel. If these are not provided, then your return time is extended to 1 yr and 14 days. Many companies include a return label. You may have to pay postage, but this should have been clear in the terms and conditions. If it was not then your postage should be refunded. If you paid for standard delivery of your order, then this too should be refunded. If you chose a costlier delivery, then you would stand the difference in cost. Whilst returning goods in the original packaging is desirable, it is not vital. However, goods must be packed so they do not become damaged. It is advisable to get a certificate of posting from Royal Mail as proof that you sent goods back. The seller should then refund you within 14 days.
Can I get a refund for unwanted gifts?
If you return a gift to a shop you have no legal right to refund unless you have a gift receipt, because you did not actually make the purchase. Many shops do oblige, but it is at the seller's discretion. The same applies to goods bought online and the seller may insist that it is the purchaser who returns the goods.
What if the item is faulty?
You may be entitled to a refund, repair or replacement. The Consumer Rights Act 2015 says that goods must be of satisfactory quality and must last for a reasonable amount of time. This applies to sale goods too.
You should return an item asap and if that is within 30 days you can get a full refund. After that it may be an exchange, repair or part refund, unless the term about reasonable duration is relevant. A £2000 TV would not be expected to conk out within 9 months , for example!
What if the goods are not what I was expecting?
This is also covered by the Consumer Rights Act which states that goods must be "as described" and "fit for purpose". So you have the same rights as for faulty goods.
Can I get a refund for goods not delivered on time?
You can ask for a refund if you do not receive goods within 30 days of purchase, or if an essential date was agreed with the seller, eg for a special event or for a pre-Christmas delivery. You can also ask for a refund if an arranged second delivery date has not been met.
Do I have to accept a credit note?
If the goods are not faulty, then yes, as you have no legal right to a refund or exchange, but check any shop policy. If goods are faulty then your statutory rights of refund in certain time/ repair/ exchange apply.
I am getting nowhere with the shop/company, so what can I do?
Always try to sort things out with the seller first, but if no progress is made then if you paid by card you can ask the card provider to help.
Debit card payments
You can look on the provider's website under "disputed transactions" or you can use the Chargeback Scheme. With this the provider will ask the seller's bank to refund to your account. You must apply within 120 days of when you paid or saw a problem. The maximum refund you can get is the amount you paid on your card.
Credit card payment
If the purchase was £100 or less then the same information applies as for a debit card payment. If the purchase was between £100 and £30,000 you can make a Section 75 claim under the Consumer Credit Act. This is a legal protection which makes the credit provider share equal responsibility with the seller, so both are liable when things go wrong. With this scheme, if you paid a deposit by card and the rest in cash, you would get the whole amount refunded. Be aware that you can't do a Section 75 if you paid through third party eg Amazon, travel agent etc