EU Citizens Support Service
25th July 2019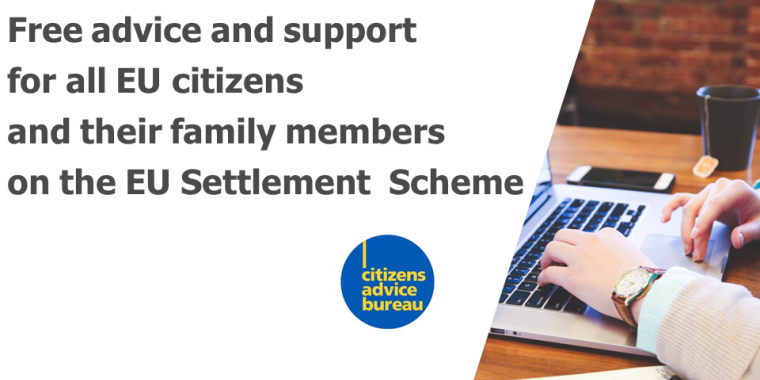 If you or your family members are an EU, EEA or Swiss nationals who are currently living in the UK, you should protect your right to stay in the UK after the 30th June 2021. You should apply for the immigration permission under the EU Settlement Scheme during the transition period.
To obtain 'settled' or 'pre-settled' status, you should submit your application by the 31st December 2020 if no withdrawal agreement is reached between the UK and the EU. Otherwise, the deadline for applying will extend till the 30th of June 2021. Your application will need to be submitted before that time.
This information is available in other languages. Please contact us
Oferujemy wsparcie w różnych językach obcych. Prosimy o kontakt
For individuals:
Perth CAB offers help and support to EU, EEA or Swiss nationals living in the UK in applying for settled status under the EU Settlement Scheme. We can also help anyone unsure if the application is necessary.
Our service covers the Tayside region, and we support individuals staying or working in the area of:
Perth,
Kinross,
Dundee,
Arbroath,
Forfar,
Montrose.
You can meet face-to-face at your local CAB office. To book an appointment, please visit us in person or phone us on details below:
7 Atholl Crescent, Perth, PH1 5NG
Tel 01738 450581
Dundee Central Library, Level 4 Wellgate Centre, Dundee, DD1 1DB
Tel 01382 307494

Arbroath office
11 Millgate, Arbroath, DD11 1NN
Tel 01241 870661
Montrose office
32 Castle Street, Montrose, DD10 8AG
Tel 01674 673263
Forfar office
19 Queen Street, Forfar, DD8 3AJ
Tel 01307 467096
We can arrange an interpreting service for clients who are unable to communicate in English.
There is also a national helpline that can be contacted on 0800 916 9847.
The helpline is available Monday 09:00 – 13:00; Wednesday 13:00 – 17:00; and Friday 09:00 – 13:00.
Support and advice can also be accessed by emailing EUCitizens@perthcab.org.uk
For Community Groups, Organisations and Employers:
We can arrange information talks and presentations to community groups, organisations or employers operating in the Tayside area to extend public awareness of the EU Settlement Scheme and its requirements.
We can provide advice to staff, members or service users and employees.
Let us know about your event if you think our participation will be useful to your participants.
Please contact us on EUCitizens@perthcab.org.uk to discuss further the support that we can provide.